Now I've had quite a bit of experience with this as a single parent.  My most recent vacation with my kids entailed hauling two kids, a wheelchair, a car seat, boxes of formula and three suitcases across the country to Sudbury, Ontario to visit family. You may not think of this as a feat but I can tell you that I sure do! Thank goodness for a good support system.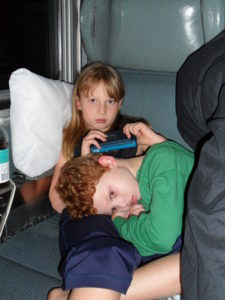 These are my children on the VIA Rail train a few years back.
Here are my three main suggestions when traveling with children:
1. If you are traveling by air, make sure you know what items you can bring on the plane as carry-on and what the airline will allow you to check in your baggage. Even though we can see that things are starting to change with CATSA/TSA regulations, remember that you can still only bring liquids, gels and aerosols in containers that are less than 100 ml/100 g. This includes water, deodorant, toothpaste and snacks. If you are traveling with a child under two years of age, you will be able to bring baby food, milk, formula, juice, etc. but will only be allowed "reasonable" amounts. This can be pretty subjective when one customs agent will allow it and another will not. If you have an older child like I do who needs some of these items or will need liquid medication onboard the plane, make sure that you have a letter from a healthcare professional stating that these items are required and keep all labels on the medication. Luckily I've had pretty good experiences with this so far. If your child is over two and has their own seat on the plane, you can also bring an approved car seat onboard for them to be buckled in to. Some children sleep relatively easy when it feels like something that they have done before. You will also need to pay attention to different items you can check for free for your children. Many of the airlines will allow you to gate check your stroller, so that small children can ride all the way to the plane. Be sure to check on the size of the stroller allowed, so that you don't get turned away at check-in. You can also check a car seat or a booster seat so that you have one at your destination. Some airlines will even let you substitute a playpen for either the stroller or the car seat.
2. If your children are traveling with only one parent or with grandparents make sure you have a signed letter from the other parent(s) saying that the children are permitted to travel abroad. Every child will need their own passport to travel. This will be non-negotiable. Although a consent letter is not a legal requirement in Canada, it may be requested by immigration authorities when entering or leaving a foreign country or by Canadian officials when re-entering Canada. Some children have very unique situations and every non-accompanying person who has custodial or guardianship rights should sign this letter. Plus this applies for any children under the age of majority so even those teenagers traveling alone should have a letter with them.  There have been in instances where I have gone through customs without being asked for them but for the most part it has normally been a question asked by the customs agents that I was happy to have the right answer to.
3. Provide your children with a few options on things they may want to do in your destination. Once you decide on where this year's family vacation is going to be, do a little research on activities or excursions that may be on interest to your children. You know them best and should be able to come up with a few options.  You can always ask your travel agent for advice on things that may be available. I find that if everyone gets to be involved in the decision-making, then there is less resistance to the activities that may not seem quite as exciting. That hike… maybe it isn't so bad if we get to go to the world's largest ice cream parlour afterward! And you may be surprised, they may even pick activities that you will also enjoy.
There are many other suggestions I could give you about traveling with children from my own personal experiences and from my clients' experiences.  I'd love to hear your some of your own suggestions or experiences traveling with children, please feel free to leave them in the comments section below. If you have any questions, don't hesitate to contact us at B-Side Travel.
Heidi