Things to See and Eat in Seattle
I've just come back from a long weekend in Seattle with my husband and infant daughter and I wanted to share some tidbits on things that should not be missed.
We started off taking the Amtrak Cascades train from Vancouver. This in itself was a new experience. In the past we've always flown in from Edmonton but this time we thought the train would be a good option!
We decided to stay at the Fairmont Olympic Hotel, built on the original site of the University of Washington. Our Executive Suite was perfect for our family of three, plus they brought in a crib, a baby bathrobe and some special soaps. Nothing is more cute than a baby in a bathrobe.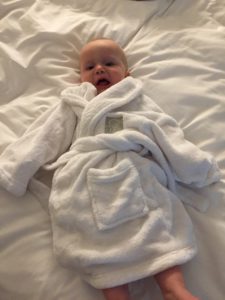 The hotel is the perfect location if you don't plan on renting a car. Everything was approximately a fifteen to twenty minute walk from us, including the Amtrak station. Plus it is just a short walk to the nearest Monorail station.
Cool Sites to See
Ferry to Bainbridge Island – The ferry has a pretty regular schedule back and forth between the mainland and the island. The adult price is 8 USD and you don't need a ticket to get back downtown. On the island you will see a cute main street with boutique shops and restaurants. We went to Proper Fish for lunch. Here you will experience British-style fish and chips, named Seattle's best in the Seattle Times. We also visited Mora Iced Creamery for dessert and you for sure do not want to miss this place. The line-up was out the door.
Museum of Pop Culture (MoPOP) – This place was originally named the Experience Music Project and was founded by Paul Allen of Microsoft fame. We were able to see exhibits on Nirvana, Pearl Jam, Jimi Hendrix, Prince, Science Fiction/Fantasy and Horror Films. They also have a really neat guitar gallery. You could easily spend a full afternoon here.
Space Needle – The Needle was built in 1962 for the World's Fair and it is here where you will get those beautiful views of the city. Currently you can view from both levels of the Space Needle for one single price. The top level is an open-air observation deck, Skyriser, and the second level, The Loupe, has the world's first revolving glass floor. Connecting the two is the Oculus Stairs, a suspended staircase. This is not for the faint of heart. To get great views of the Space Needle at night you need to visit Kerry Park in the Queen Anne neighbourhood.
Bill Speidel's Underground Tour – Yes, this is a touristy thing to do, but if you like history I would really recommend it. Seattle was burned to the ground in a fire in 1889 and was rebuilt in a very interesting way that you will learn about on the tour. I don't want to spoil it for you! Plus you'll get to meander through Pioneer Square. Don't forget to visit Emerald City Guitars if you like vintage and funky guitars.
Pike Place Market – The market has a number of levels and alleys, and if you don't pay attention you will miss a number of them. At the market you will see vegetables, seafood, crafts, handmade items, spices, comics and vinyl records, among so many other things. I still can't believe what you can get for 20 USD at the flower market. Plus they have some excellent food options and coffee shops.
Seattle Great Wheel – There are more and more extra large ferris wheels around the US these days but you just can't beat the views from this one. You'll get a panorama of the city, views of the Pacific Ocean and, if you are lucky, you'll be able to see Mount Olympus in the Olympic Mountains. The Great Wheel is located in the harbour, close to Pike Place Market and where the cruise ships dock.
Great Places to Eat:
You also won't want to miss these local eateries:
– Li'l Woody's – Located in the Capitol Hill neighbourhood and home to the best french fries I have ever had.
– Bambino's Pizzeria – Located only a few blocks from the Space Needle, they have wood-fired ovens and a very large selection of craft beer.
– Dog in the Park – We went to the location in Seattle Center, right by MoPOP and the Space Needle. Here is where you will be served the traditional Seattle Dog, which includes cream cheese and sauteed onions.
– 8 Oz. Burger & Co. – Here they focus on the quality of the meat and the bun and it shows. I also had the best milk shake in Seattle at the Capitol Hill location.
– Specialty's Cafe and Bakery – We went here almost every morning for coffee and breakfast. Everything we tried was very fresh and great-tasting. The biggest thing for us though, was the fact that they are very active in hiring inclusively. There are a few employees here that have special needs and the company goes out of its way to make sure that they are comfortable and have what they need to perform their job to the highest level.
– Crab Pot – Probably one of the most known about places for seafood in Seattle. Here is where you sit down at a table and they dump a pot of seafood in front of you. Don't forget to put on your bib before you start.
Of course there are many other things that you can do in Seattle. It is a hot spot for sports lovers, with the Mariners (baseball), Seahawks (football), Sounders (soccer) and Storm (women's basketball). Many people visit for concerts and/or a trip to the Gorge for a music festival. Dave Matthews is a regular here. Plus the Chihuly Garden and Glass Museum was closed to the public when we were there so we'll have to go back.
Let me know if you've been and what your favourite haunts are.